Washington Signs LHP Zach Grace From D3 Rowan, Declines Options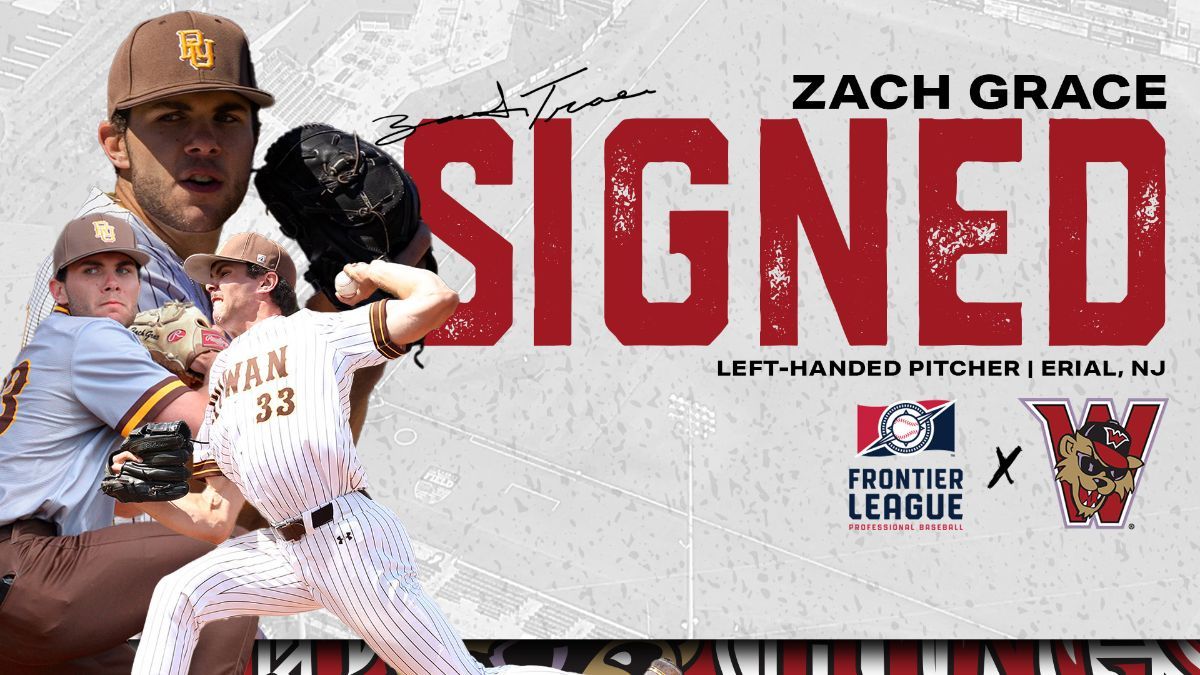 WASHINGTON, Pa. (Nov. 15) – The Washington Wild Things have officially begun the roster building for the 2024 season by signing two pitchers to deals for the upcoming season and declining some options on 2023-contracted players with club options for 2024.
Washington has signed left-handed pitcher Zach Grace and righty Gyeongju Kim, both of whom are rookies. The team, on October 27, declined the contract options of IFs Nick Gotta and Wes Darvill, RHPs Arrison Perez, Trent Dewyer, Hayden Shenefield, Kaleb McCullough and Jan Figueroa, LHP Robert Gonzalez and OFs Tomas Sanchez and Jack Cone.
Grace comes to the Wild Things after completing his collegiate career in 2023 with Rowan University. Grace, a southpaw, earned All-Conference Second Team honors as a junior at Timber Creek Regional, was two-time conference Pitcher of the Year at the high school and recorded 150 strikeouts as a high-school pitcher.
He started his college career with two seasons at Iona in 2020 and 2021, before transferring to Wake Forest, where he appeared in nine games for the Demon Deacons. He then spent 2023 with Rowan, where he went 7-0 with a 3.42 ERA in 15 games, 13 of which were starts. In 81.2 innings for the Profs, Grace fanned 108 opposing batters and allowed just 63 hits with 32 walks. He was chosen as ABCA/Rawlings Region 4 Pitcher of the Year and as an All-Region First-Team selection. He also picked up laurels as d3baseball.com Region 4 Pitcher of the Year and First-Team and All-NJAC Honorable Mention. He recorded a career high 14 strikeouts in a complete-game shutout of William Paterson in the second round of the NJAC Championship.
The Erial, New Jersey, native signs his first pro contract with the Wild Things.
A Seoul, South Korea, native, Gyeongju Kim pitched for two seasons at the University of Ozarks from 2017-18. He had five wins combined with 96 strikeouts in 103 innings there. In 2018, he posted a 3.33 ERA in 70.1 innings of work. He started a three-year run with Dordt University in Iowa, an NAIA school, in 2021. There in three seasons, he posted a 3.97 ERA with 17 wins in 38 appearances, 34 of which were starts. In 219.2 innings for the Defenders, Kim fanned 324 batters to just 69 walks with a .245 batting average against.
It's also Kim's first pro contract.
The Wild Things have options still to decide on after declining the aforementioned options, which have a deadline in December of being exercised or declined. The team can also extend players with an option on new contracts.
Washington is set to open its season at home Friday, May 10 against the Schaumburg Boomers. Season ticket and group packages are available for purchase now by calling 866-456-WILD or going to washingtonwildthings.com. Fans can also follow the team's social media pages and site for news on the building of the roster, including on X, Facebook, Instagram, TikTok and now, once again, YouTube. Search @WashWildThings, go to youtube.com/@WashWildThings or go to facebook.com/washingtonwildthings.
ABOUT THE WASHINGTON WILD THINGS
The Washington Wild Things are a professional baseball team that plays in the MLB-partnered Frontier League. The team has won eight division championships and has been to four Frontier League Championship Series within their numerous playoff appearances. Fans and media can stay aware of all the happenings within the Wild Things' organization, both on and off the field, by following the team's social media platforms and website: washingtonwildthings.com. For other inquiries, call the front office at 724-250-9555 or 866-456-WILD.