Cam Roth, 2019 FL Manager of the Year, Tabbed Pitching Coach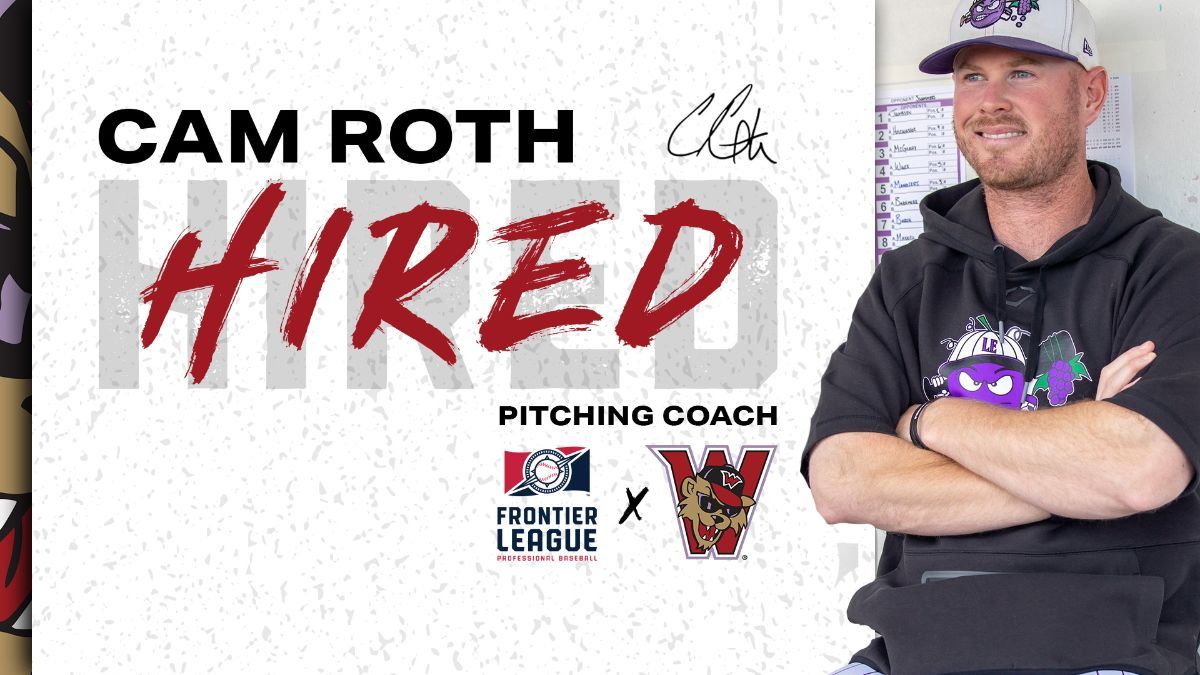 WASHINGTON, Pa. (Oct. 26) – The Washington Wild Things have announced the addition of 2019 Frontier League Manager of the Year and long-time Frontier League skipper Cam Roth to the field staff for the upcoming 2024 season as the team's new pitching coach. Roth spent the 2023 season in the same role with the Atlantic League's Lexington Counter Clocks but was also Director of Player Procurement with Lexington.
Roth played professionally for the Schaumburg Boomers in 2012 after spending two seasons in the Baltimore Orioles' farm system. He posted a 4.25 career ERA in 64 appearances and worked 137.1 innings before retiring due to injury.
He worked on Jamie Bennett's staff in Schaumburg to start before being tabbed a skipper for the first time in the middle of the 2016 season, taking over for the Lake Erie Crushers, who he managed from 2016 through 2019 and then again in 2022. In between tenures with the Crushers, he was hired to manage in the Detroit Tigers' organization, where he was in 2020, and then spent one season with the Gateway Grizzlies in 2021. He's currently also employed as a Turf Advisor with Southern Turf Company.
Roth's Crushers won the East Division title in 2019 and he was named the Frontier League's Manager of the Year for that result. He has 284 wins as a Frontier League manager.
"We want to welcome Cam to the Wild Things' staff. Cam brings a wealth of knowledge, not only as a pitching coach, but also as a former manager," said Wild Things' manager Tom Vaeth. "We are excited to see how he cultivates and develops the younger arms on our roster. His experience/time spent in the Baltimore and Detroit organizations should greatly benefit who we are and what we want to be as an organization and playoff contender going forward."
Vaeth continued, "I've always enjoyed going head-to-head with Cam from across the field and now to have him in my dugout, and on our side, I'm sure will only make us stronger."
Roth said he's excited and honored to get to work with the Wild Things' organization and Vaeth.
"Year in and year out this organization has exemplified true professionalism on and off the field. Previously as a manager and coach in the Frontier League I can honestly say I couldn't be more humbled than to be in the same dugout with Tom," said Roth. "The Wild Things have a culture to not only win between the lines but ensure quality experiences in their community and for the fans. Pressure in a privilege and they have earned it to continue to be a winning organization."
Cam replaces Alex Boshers, who spent three seasons as Pitching Coach with the Wild Things. His contract was not renewed after expiring at the end of the season.
Boshers was the 2021 Frontier League Coach of the Year in his first season as pitching coach, a season that also saw him return to the mound as a pitcher. He was 4-3 in 15 regular-season outings and made two starts in the 2021 Frontier League playoffs. He returned on a two-year deal starting in 2022 and helped guide the club to a playoff appearance that season before working with the club in 2023. The Wild Things' organization wishes Boshers the best in the future and thanks him for his efforts over the last three years.
"Alex was great for us, and for me in particular, during his time in Washington. He was a big part of our success, especially that first season when he stepped back on the field and did a tremendous job for us on the mound," said Vaeth. "Not only did he pitch big games for us, but [he] did a great job in his first year as coach, winning coach of the year. I know Alex has a lot of options going forward, and I am positive whichever direction he goes, he will have nothing but success."
Roth's work with the club will begin immediately, including his representing the club at a tryout this coming weekend in Georgia.
---
Season-ticket packages and information on benefits are available on the team website now at https://www.washingtonwildthings.com/tickets/season-tickets/. You can also call for info or to purchase packages by ringing 866-456-WILD or 724-250-9555.
Fans can see the full schedule in printable form here or at washingtonwildthings.com/schedule. Game times will be announced later, at which point any special start times will also be revealed. The promotional schedule is also in the works and will be announced later.