Wild Things, Molson Coors Introduce Coors Light Brew Crew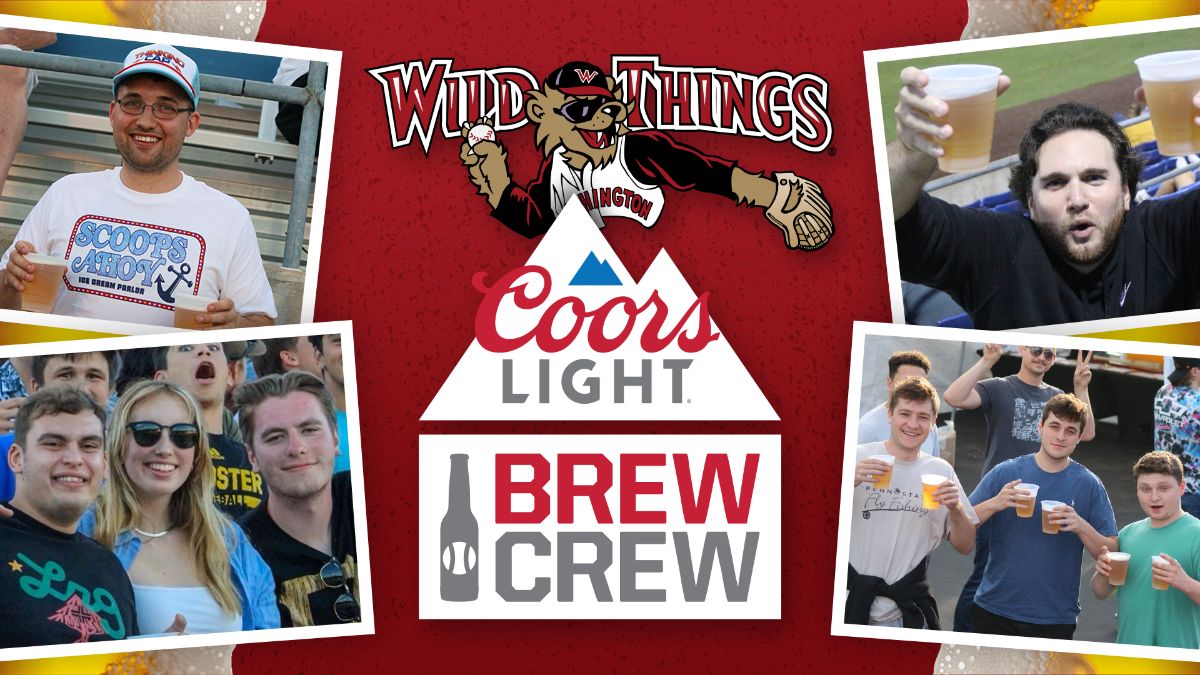 WASHINGTON, Pa. (March 10) – The Washington Wild Things and the Molson Coors Beverage Company have teamed up to bring a new program to Wild Things Park and the tri-state area for the upcoming 2023 season in Washington. The Coors Light Brew Crew, announced by the team today, is highlighted by a free ticket to all Thursday home games for fans aged 21-30 and dollar Coors Light pints.
The new club's announcement is a dip into the full Wild Things' promotional schedule, which will be released to the public Friday, March 17.
Following registration, fans from the ages of 21 to 30 will get a free ticket to Thursday home games through a link that will be sent in text message form to them from the Wild Things inviting them to reserve their seats for them and their friends. At the game, there will be $1 Coors Light pints available for all fans to purchase as part of the Thirsty Thursday. Each week will also offer a signature Deep Eddy cocktail or other themed beverage on special at the Deep Eddy Cocktail Bar located in right field. Dollar drafts will only be available at the Beer Wagon, adjacent to the Deep Eddy Cocktail Bar.
"[We're] excited to work with Molson Coors and the Coors Light brand on this new endeavor. We know there will be a different energy at the ballpark with the Coors Light Brew Crew and the social crowd we will attract," said president and general manager Tony Buccilli. "Beyond the $1 pints of Coors Light we will offer every Thursday, there will be signature cocktails on special for fans to enjoy. We have amazing collaborations lined up with local partners and some exclusive prize packs to be won weekly."
Each week will also have a theme associated to spike up the night even more and help appeal to the crowd in the ballpark. Each Thursday home game is scheduled for a 7:05 p.m. first pitch with gates opening at 6 p.m. Tailgating in the parking lot is permitted. The themes are as follows.
May 18 vs New York Boulders – Brew Crew Kickoff
May 25 vs Florence Y'alls – TikTok & Meme Night
June 15 vs Ottawa Titans – Summer St. Paddy's
July 6 vs Windy City ThunderBolts – Kickin' It Country presented by Twisted Tea
July 20 vs Trois-Rivières Aigles – 90s Night
July 27 vs New Jersey Jackals – Y2K presented by UNation Pittsburgh
August 17 vs Gateway Grizzlies – Augtoberfest presented by Mike's Beer Bar
August 31 vs Joliet Slammers – Single and Mingle
More info and a form to register: http://www.washingtonwildthings.com/community/Coors-Light-Brew-Crew/. Interested fans or anyone looking for more information can also call 724-250-9555.
The Washington Wild Things open their 21st season of Frontier League baseball May 12 at the Evansville Otters. The home opener is scheduled for Tuesday, May 16 against the New York Boulders. The promotional schedule will be announced March 17 with individual tickets going on sale April 3.
ABOUT MOLSON COORS BEVERAGE COMPANY
For over two centuries Molson Coors has been brewing beverages that unite people to celebrate all life's moments. From Coors Light, Miller Lite, Molson Canadian, Carling, and Staropramen to Coors Banquet, Blue Moon Belgian White, Blue Moon LightSky, Vizzy, Leinenkugel's Summer Shandy, Creemore Springs, Hop Valley and more, Molson Coors produces many beloved and iconic beer brands. While the company's history is rooted in beer, Molson Coors offers a modern portfolio that expands beyond the beer aisle as well.
Molson Coors Beverage Company is a publicly traded company that operates through Molson Coors North America and Molson Coors Europe, and is traded on the New York and Canadian Stock Exchange (TAP). The company's commitment to raising industry standards and leaving a positive imprint on our employees, consumers, communities, and the environment is reflected in Our Imprint and our 2025 sustainability targets.
ABOUT THE WASHINGTON WILD THINGS
The Washington Wild Things are a professional baseball team that plays in the MLB-partnered Frontier League. The team has won eight division championships and has been to four Frontier League Championship Series within their numerous playoff appearances. Fans and media can stay aware of all the happenings within the Wild Things' organization, both on and off the field, by following the team's social media platforms and website: washingtonwildthings.com. For other inquiries, call the front office at 724-250-9555.