Mang's 3-Run HR Lifts Wild Things to Rain-Shortened Win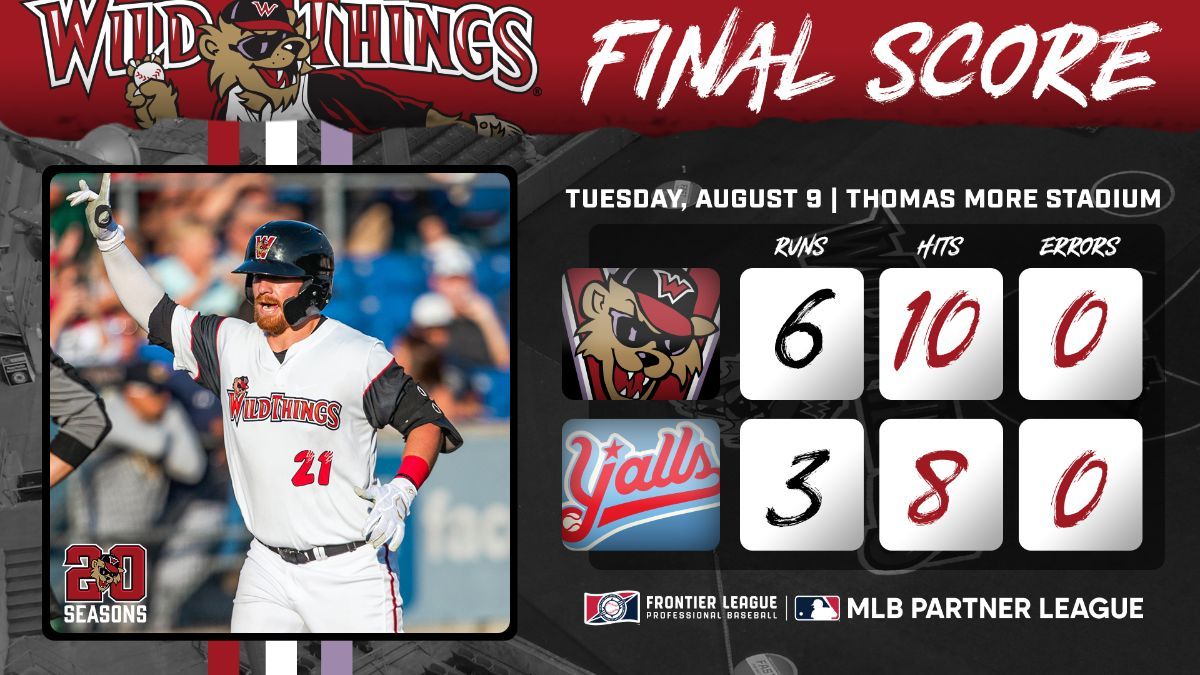 FLORENCE, Ky. (August 9) – In a well-pitched game by the visiting Washington Wild Things, a Jared Mang three-run, sixth-inning homer made the difference in the run column as Washington took the series opener against the Florence Y'alls Tuesday at Thomas More Stadium, 6-3. The game was called after eight innings due to rain.
Nick Ward started the night with a bang for the Wild Things, connecting with another lead-off homer on the third pitch of the game. It was Ward's 17th homer of the season and RBI number 57 for the shortstop and gave Washington the early advantage.
Back-and-forth play ensued after that. In the bottom of the second, Washington's Hayden Pearce yielded a one-out walk to Luis Pintor and Pintor scored on a two-out double by Ethan Stern to tie the game at 1-1. Florence then took the lead in the third on Ray Zuberer III's solo homer.
The Wild Things got the next two, however, with a run in the fourth on a double that was laced to left center by Andrew Czech to score Wagner Lagrange. Washington then grabbed the lead in the fifth on an RBI single by Hector Roa. Czech's RBI was his 50th of the season and Roa's his 45th.
The Y'alls tied the game at 3-3 in the bottom of the fifth on an RBI knock from Zuberer, but Washington responded quickly. Jared Mang hit a go-ahead three-run home run, his ninth of the season, to give the Wild Things a 6-3 lead in the sixth, that they would not relinquish.
Hayden Pearce got the win going six innings of three-run ball for a quality start. Pearce is now 5-5 after allowing six hits and three runs with three strikeouts. Isaac Mattson pitched two innings of scoreless ball and fanned two. Once the game was called, it gave Mattson the save, his first in a Wild Things' uniform.
The Washington Wild Things, now with a league-best record of 48-25, will play the middle game in Florence tomorrow against the Y'alls (31-41).