Washington Grabs Series With Capitales With Saturday Win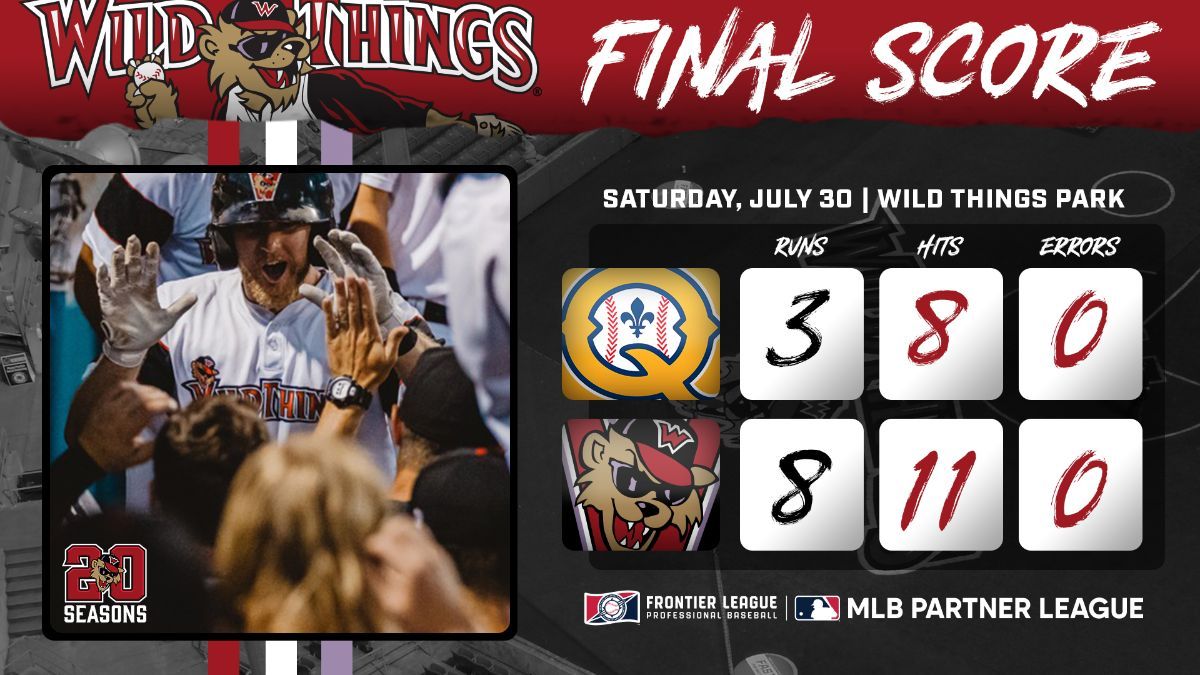 WASHINGTON, Pa. (July 30) – The Washington Wild Things took the series over the Québec Capitales with an 8-3 win. An early lead and late game runs helped Washington to achieve victory over the top team by record in the Frontier League.
Nick Ward hit a home run as the leadoff hitter for the Wild Things in the first to give Washington the early lead. Andrew Czech followed this a few plays later with an RBI single to make it 2-0 for Washington at the end of the first.
Québec scored a run on starter Stephen Knapp in the third to make it 2-1, and it stayed that way for a while. It wasn't until the sixth that the score changed when Wagner Lagrange hit an RBI double to take back the lost run. That same inning, Ian Walters hit a two-run homer to add on to the lead, making it 5-1 Washington.
The Capitales scored two more runs in the eighth while Hayden Pearce pitched for the Wild Things, bringing the score to 5-3. In the bottom of the eighth, Walters hit an two-RBI double with the bases loaded to bring in two runs. The next play, Hector Roa hit a groundout to get Czech home for the Wild Things third run that inning, making the score 8-3.
Kenny Pierson entered in the eighth and stayed on the mound in the ninth for Washington. After allowing a single, Pierson struck out the second batter that inning. The runner on first and final batter of the game were caught out on a 5-4-3 double play to end the game. Pierson finished the game having pitched 1.2 innings, allowed one hit, and struck out one and earned the save.
Knapp pitched five innings in his start, allowed one run, three hits, walked one and struck out six. Dan Kubiuk came in as relief in the sixth and struck out three straight in his only inning this game. Pearce entered in the seventh and pitched 1.1 innings, allowed two runs, four hits, one walk and struck out two.
Washington (42-23) looks to sweep Québec (45-20) tomorrow for Halloween Night presented by Moe's. Tickets can be found at wildthingstickets.com.