Washingtons Punches Ticket to FLCS With Shutout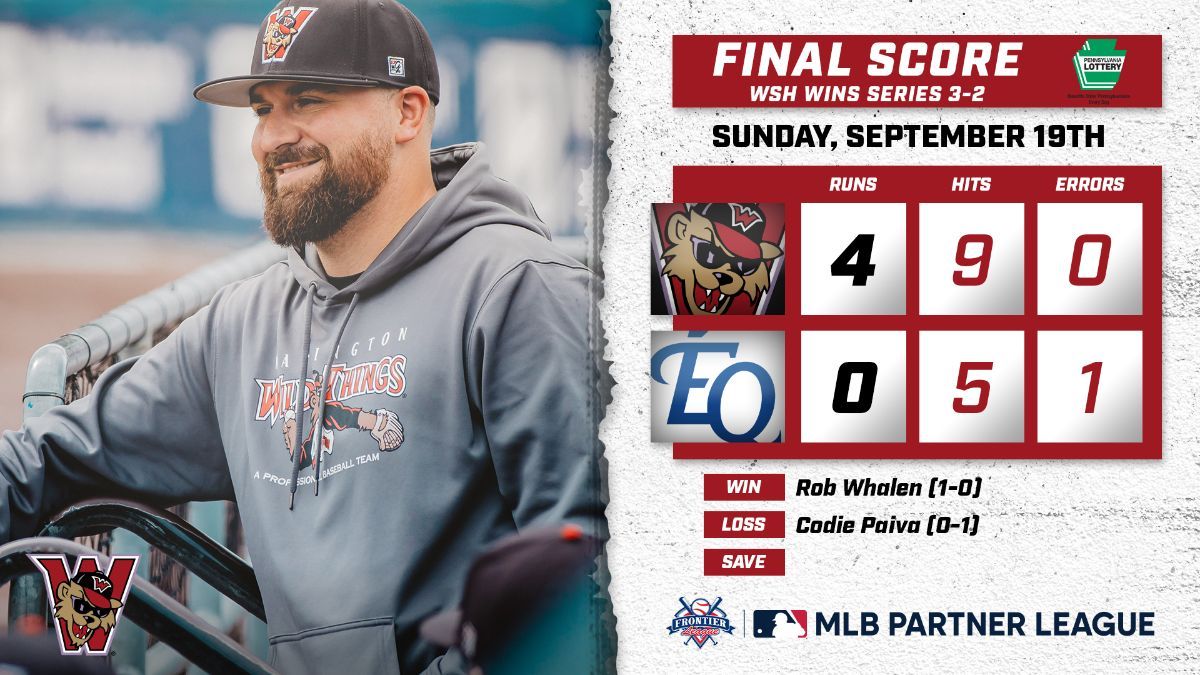 QUEBEC CITY, Quebec, Canada (September 19) - With a big four-run fourth inning and a dominant mound performance by Rob Whalen, the Wild Things completed the comeback from down two to one in the best of five Frontier League Division Series to win the series and advance to the Frontier League Championship Series, defeating Équipe Québec 4-0 in the decisive fifth game of the series. The Frontier League Championship Series starts Tuesday against Washington, as the Wild Things will head to that series for the fourth time in franchise history.
After Codie Paiva faced the minimum through three innings with just one baserunner against him and his mound opponent Rob Whalen allowed just a hit in his first three innings, Washington blew the game open in the fourth. The first five hitters to step in in the fourth for the Northeast champs singled. Nick Ward grounded a pitch through the middle, Andrew Sohn reached on a bunt single, Trevor Casanova on an infield single, Jackson on a two-run single to left field and Grant Heyman hit a ground-ball single through the right side to make it 3-0. Hector Roa picked up an RBI by grounding a ball at third that Jesse Hodges booted allowing Jackson to score to make it 4-0. That chased Paiva from the game. Kyle Thomas came on and got a double play and a strikeout to stop the bleeding.
Whalen continued dealing, rattling off a run of 10 set down in a row before Washington threatened again. The Wild Things loaded the bases with singles by Bralin Jackson, Hector Roa and Andrew Czech in the sixth but didn't manage to score. The run ended for Whalen at 11 in a row as Équipe Québec got two base hits in the sixth to threaten but did not score against Whalen. Whalen punched out two more in to get him to nine strikeouts through seven scoreless innings in the seventh. Whalen yielded two runners in the eighth but got out of that with two more punchouts. His line ended at eight shutout innings with 11 strikeouts and five hits allowed.
BJ Sabol worked a scoreless ninth to seal it, capping an excellent series on the mound for the lefty.
Washington's playoff run now continues as Can-Am Conference Champions in a sense with the Wild Things heading to their fourth Frontier League Championship Series appearance and second in three Frontier League seasons. They'll play the Schaumburg Boomers, who defeated Florence in the other FLDS series, three games to one. Schaumburg has won three Frontier League titles (2013, 2014, 2017) while Washington will be in search of its first.