Daren Osby Chucks First Career Shutout in 8-0 Win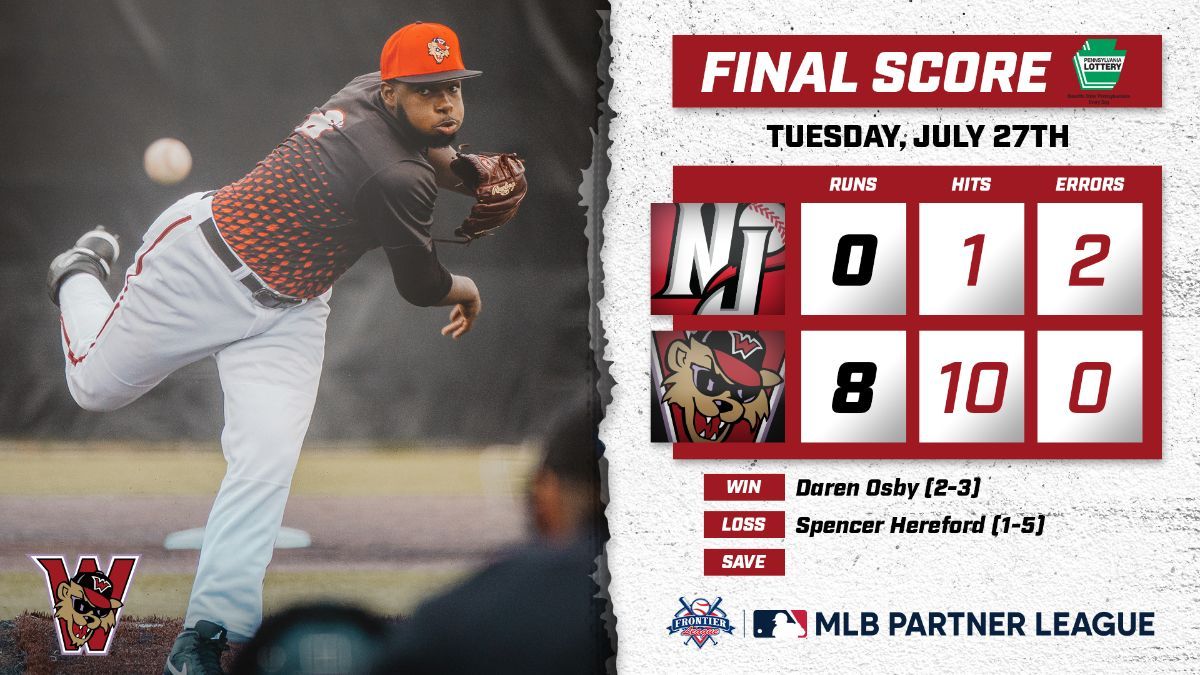 WASHINGTON, Pa. (July 27) - Daren Osby spun a one-hit shutout for his first career shutout as the Wild Things ran away with the series opener and their seventh-straight victory over the Jackals in Tuesday's series opener, 8-0. It's the third career complete game for Osby, who allowed just three baserunners all night in the effort.
Osby allowed New Jersey's only hit, a one-out triple, in the first inning to Dalton Combs and walked two before the fifth inning started. After his second walk, he set down the final 16 batters he faced to earn his second win of the season and used 117 pitches, 78 of which were strikes, to do it. Osby fanned seven, including two in his final inning of work.
Washington started the scoring in the second inning with two home runs. Hector Roa led the frame off with a solo shot to left-center field, his 8th of the season, and Joe Campagna hit a two-run shot, his seventh homer of the season, to make it 3-0. Bralin Jackson's two-run missile left the bat at 110 mph in the third and was his seventh homer of the year, giving the Things a 5-0 lead in the third. In the fourth, an Andrew Sohn book-rule double plated Washington's sixth run. Andrew Czech's 13th home run gave the Wild Things a sixth inning lead of 7-0. The final run for the Wild Things came later in that frame when Scotty Dubrule singled home a run.
With two hits, Dubrule extended his hit streak to eight games to start his pro career. The four home runs for the Wild Things are tied for the most they've hit in a single game this season, doing that for the third time and the first since July 10 against the Boulders at Wild Things Park.
The homestand and series continues tomorrow with first pitch scheduled for 7:05 p.m. at Wild Things Park. Gates open at 6 p.m. for Union Night presented by Union Grille and Dollar Dog Night at the ballyard.