Anthony Brocato Named FL Postseason All Star Outfielder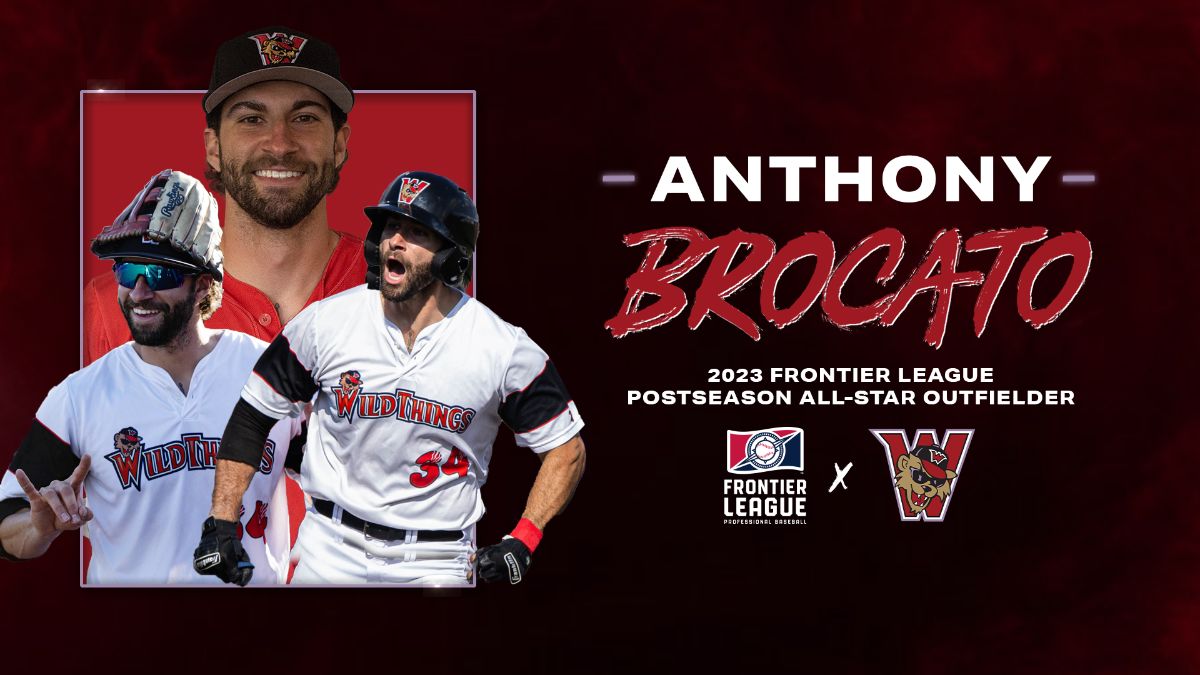 WASHINGTON, Pa. (Sept. 3) – The Frontier League has announced its annual postseason awards, which include the league MVP, Pitcher of the Year, other yearly awards and the postseason all-star team, among others. Washington, and those around the team, have been awarded two honors, which includes outfielder Anthony Brocato being named one of three Frontier League postseason All Star outfielders.
Brocato, who is in his fourth season in the league and his first full one with Washington, is slashing .280/.357/.602, with 95 hits, 19 doubles, three triples and 28 homers. The 28 home runs are not only a career high, but the second most in a single season in Wild Things history. He's also driven in 68 runs, has eight outfield assists and swiped 16 bags.
The 28 home runs are tied for third in the league with fellow postseason All-Star outfield Josh Rehwaldt of the New Jersey Jackals. The total is behind only league MVP James Nelson's 29 and Keon Barnum's 30. Barnum, also a Jackal along with Nelson, is the post-season All Star DH. Brocato's RBI are 16th in the league. His slugging percentage is sixth.
Anthony came to Washington in a trade at the 2022 transaction deadline and quickly made himself an impact bat. He's carried that into this season.
Anthony has had an incredible season and is very deserving of this award. He made his first [full] year in Washington a memorable one becoming a fan favorite with how hard he plays the game," said manager Tom Vaeth. "Anthony played through a lot of nagging injuries and still had one of the best offensive seasons in Wild Things history…and let's not overlook how good he has been defensively throughout the year."
On top of Brocato's award, the Wild Things' beat writer at the Washington Observer-Reporter and Sports Editor at the paper, Chris Dugan, has been named the Frontier League Writer of the Year for the 11th time.
The full list of the Frontier League postseason award winners is available at www.frontierleague.com.